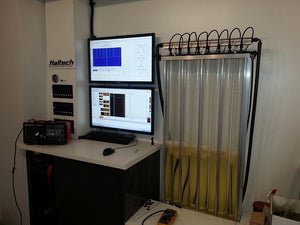 Australias leading injector testing facility
Designed and built in-house, specifically for the testing of high flowing aftermarket fuel injectors. Driven by a Haltech ECU and capable of flowing injectors of up to 5000cc/min and beyond.... More
Contact Us about all your injector needs.
Street Performance Racing Car Parts
Are you looking for the best racing car parts available on the market today? Look no further. We offer a wide range of car racing accessories and performance engine parts in Australia. If you want to take your racing car to new heights, don't hesitate to order yours today.
From one of Australia's top racing teams, we offer only personally race-tested products that have proven themselves on the track. Our product range consists of the best from some of the world's top manufacturers like Bosch Motorsport, BMC, DENSO, Emtron, Fuelab, MOTEC, and much more.
Engine parts, intercoolers, and engine management: We supply the very best of stroker kits, crankshafts, oil pumps and cylinder head drains, oil filters, turbochargers, engine management systems, intercoolers and much more.
Fuel, air, fittings, and hoses: Find the best performing fuel systems, parts, and accessories right here. We also supply fuel cells, assorted tanks, air filters, fittings, and hoses.
Custom: Are you looking for custom parts for your racing car. We offer custom coil brackets, display plates, exhaust and turbo flanges and much more.
Get the most out of your racing car with quality, track-tested racing car parts and accessories.
Dyno Tuning & EFI Systems Melbourne
Before you take your ride to the drag strip, make sure it is performing to its maximum potential so that you don't end up losing by a nose gap. That hurts more than a breakdown.
When you decide to max out your car's motor, leave no stone unturned. Drive into our facility for dyno tuning in Melbourne and get adjustments made to the ignition, air and fuel supply. This ensures significant performance gains in terms of horsepower and torque.
Our dyno tuning focuses on how your car performs 60 feet off the start line, because this 60-feet window decides your win in a quarter-mile race.
EFI Systems – why should you get it?
Electronic Fuel Injection Systems are designed to replace perfectly working carburetor, and it makes sense because EFIs ensure consistent air-fuel mixture to deliver better fuel efficiency than a carburetor does. Our advanced EFI systems work in tandem with turbochargers to give you enhanced throttle response without compromising on mileage.
Looking for last-minute performance gains? We offer a wide range of plug-n-play parts to enhance your engine's performance on the fly. With a couple of tuning-tweaks and part replacement, you will be all set to draw the big number 11 on tarmac.
Australia's leading injector testing facility
Fuel injectors are the integral components that can make or break an engine. Whether you drive a sleeper or a family car, it is important to have fuel injectors tested and serviced regularly.
QuickBitz specialises in fuel injector testing for all models and makes.
Why is it important, especially for tuned-up vehicles?
One of the common issues in a fuel injector is the worn-out O-rings. Initially, the symptoms are subtle and hard to detect, and by the time you get to it, it will have done a lot of damage already.
Tuned-up vehicles with turbochargers often burst into flames on a drag strip, and the reason can be worn-out O-rings. This is because turbochargers run hot at high RPMs. And since they sit close to fuel injectors, a small amount of leakage due to worn-out O-rings can set the vehicle on fire, literally. To avoid such situations, get your fuel injectors checked and serviced at our facility.
FAQs:
How much horsepower can you get from a dyno tune?
Depending on your engine's capacity, you gain up to 40 horses with dyno tuning. A dyno tune makes more sense for turbocharged engines, although you can bump up power figures on a stock motor as well. And it is not just about increasing horsepower. Leveraging the tradeoff between horsepower and fuel efficiency, you can tip the scale on either side.
How much does it cost to get dyno tuned?
A dyno tune can cost between $800 and $1500 in Melbourne, Australia, for all models and makes. Forking out this kind of money is all worth it if you are looking to test your car against time on a quarter-mile tarmac. However, the price may vary with your engine capacity and configuration, and how much power gain you are looking at. Contact us for an accurate price estimate for your vehicle.
Do you need a tuner for a dyno tune?
A professional tuner understands the equipment and knows when to pull the plug so that your pistons don't shoot through the ceiling. A tuner can help you identify any intake or exhaust leaks and tune your vehicle according to your performance goals.
What do I need to get a dyno tune?
There are a few prerequisites other than ensuring your car in drivable condition. First of all, you need fresh engine oil to have your engine running at its peak efficiency. Secondly, motor mounts are a must to keep engine vibrations from interfering with dyno results. And most importantly, your tyres should be in good condition to avoid spins on the dyno.
Does EFI add horsepower?
If you drive one of those oldies, swapping the carburettor with an EFI can give you an extra 10-20 horsepower gain. EFIs are controlled by a microprocessor and thus supply the perfect fuel-and-air mixture to give power on demand. You can also go with high-performance EFIs if you are looking for more gains.

[powr-banner-slider id=42b25d49_1504448513]